Syncwire sell a large range of cables for Android and iOS devices and they sent me a USB-C cable from their "UNBREAKcable" range of tough cables to review. This particular cable was 2 metres long and featured a USB-C connector on one end. Perfect for charging the new generation of Smartphones and tablets.
More phones and tablets are starting to feature a USB-C socket rather than the more familiar MicroUSB. Although devices will usually come with a high quality cable it is often useful to have a few extras.
Syncwire USB-C Cable ("UNBREAKcable" Series)
The Syncwire cable offers :
Full-speed sync with the Type C specification (up to 5 Gbps) which is 10 times faster than USB 2.0
Full-speed charge just like the cable that came with your device
Premium materials offering additional strength and durability
Tested with 30,000 cycles of 90-degree bend tests
Compatibility with all currently available USB-C devices from Apple, Google, LG, HTC, Lenovo, HP, Asus etc
One USB-C Cable is Never Enough
Over the years I have built up a collection of MicroUSB cables. I tend to use my collection of cables to :
Charge at different locations (home, work, car etc)
Charge from portable battery packs
Transfer data to different computers
It is hard to do all this with one original cable and in the past I've purchased additional MicroUSB cables to do the job. Over the years it became clear that not all cables were created equal and cheap cables never really matched the quality of the cable that came with the device. With USB-C I've pledged to only use high quality cables and avoid the frustration of slow charge speeds and broken connectors.
The Packaging
The packaging consists of a cardboard carton. This contains the cable and an instruction booklet which details how to contact customer services. There are no other instructions but given a cable requires little explanation this is to be expected.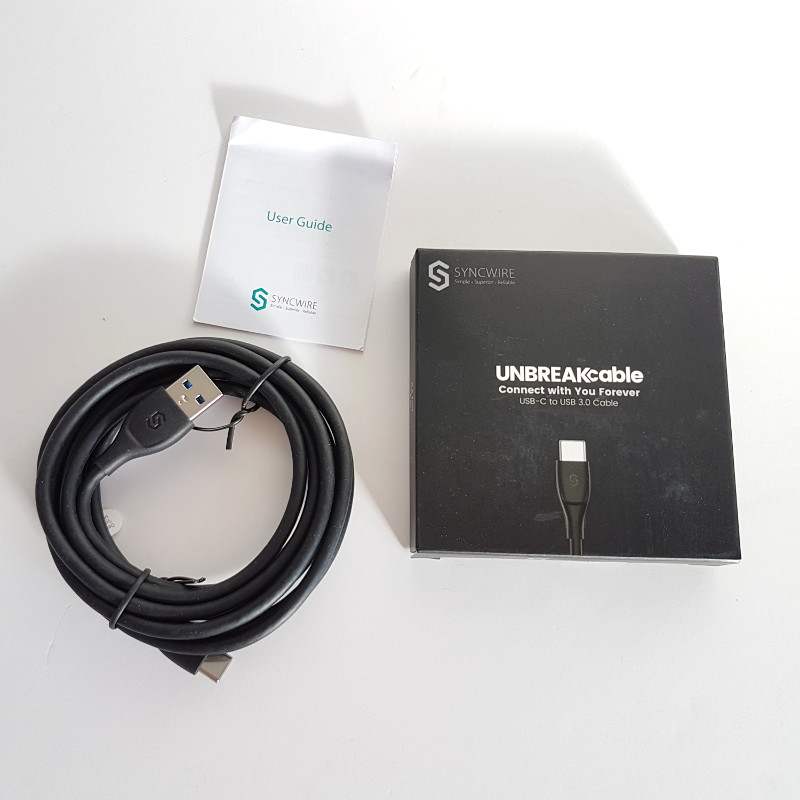 The Cable
The actual cable is slightly thicker than other charging cables but is still flexible. It can be coiled up for transport and storage. A 2 metre length means it is easy to use a device while it is connected to a charger.
The Connectors
Both connectors consist of molded plastic with a soft touch feel to them. Other cables I have owned in the past with hard plastic connector shells tend to crack. My impression is that the Syncwire connectors will tend to flex rather than crack if put under stress.
In this photo the cable is connected to the USB-C socket on a Samsung S9.
Internal Design
The cable is approximately 4mm wide and makes it slightly wider than other cables in my collection. However for a charging cable this is good news as it indicates more substantial conductors.
Charging
The cable supports 3A of charge current at 5V. This is only possible for cables with a decent amount of copper in the internal wires. Modern devices demand more current than ever and low-quality cables prevent the device from charging at its full rate.
I tested the cable with a Samsung S9 and its charge rate was identical to the original Samsung cable. Charging from a 2.1A portable power bank gave similar fast-charge performance.
Conclusion
The Syncwire USB-C cable is a well made product with quality connectors and internal conductors. In terms of cost it is more expensive than some alternatives but I feel this difference is justified. The score I've given below reflects the quality of the cable itself and it's performance compared the Samsung cable that came with my phone. Finally, it is fairly priced (£8/$10) and will almost certainly out perform and out last cheaper cables.
Buy the Cable
You can buy this cable from Amazon :
The full range of Syncwire cables can be seen in the product gallery on the official Syncwire site.
A well made cable that performs as well as cables from flagship device manufacturers. This makes it an ideal replacement or spare.